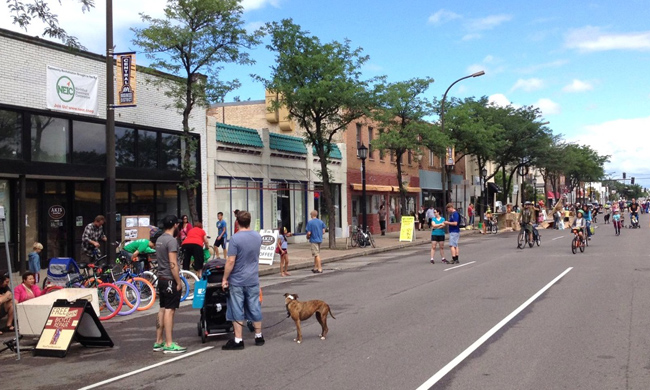 These Neighbors Got Together to Buy Vacant Buildings. Now They're Renting to Bakers and Brewers -- Yes! Magazine
The intersection of Central and Lowry Avenues in northeast Minneapolis is bustling. On the northwest corner is a trifecta of local businesses: A bike shop, a cooperative brewery, and a bakery, in buildings with eye-catching exteriors of rough-hewn wood and silvery porcelain bricks. The neighborhood grocery co-op is one block up the street.
This commercial stretch didn't always look like this. In 2011, where these three businesses sit, there were two vacant buildings. The empty space was not uncommon along Central Avenue, a long corridor that was created to be the Main Street of the neighborhood, but that had suffered from decades of disinvestment. While a few businesses dotted the avenue, many other storefronts were neglected.
"A lot of people looked at it as too big to tackle," explains Leslie Watson, who lives nearby.
In 2011, a group of dedicated neighbors came together to change that. In November of that year, five of them, including Watson, became the founding board of the Northeast Investment Cooperative, a first-of-its-kind in the U.S. cooperative engaged in buying and developing real estate. NEIC created a structure where any Minnesota resident could join the co-op for $1,000, and invest more through the purchase of different classes of nonvoting stock. The group began spreading the word to prospective members, and started looking for a building to buy.
To read the article in its entitreity, we encourage you to visit YesMagazine.org.